Scones are a favorite breakfast bread but enjoyed any time of the day. 
These cranberry orange scones are a sweet and tart treat.
The secret to scones is keeping the butter cold until ready to use, then putting into the preheated oven within minutes of mixing. This allows the cold butter to melt in pockets which make a moist and delicious taste.
You can substitute the dried cranberries with fresh blueberries. 
Do you have our FREE Roll-out Cookie eCookbook?  Click below.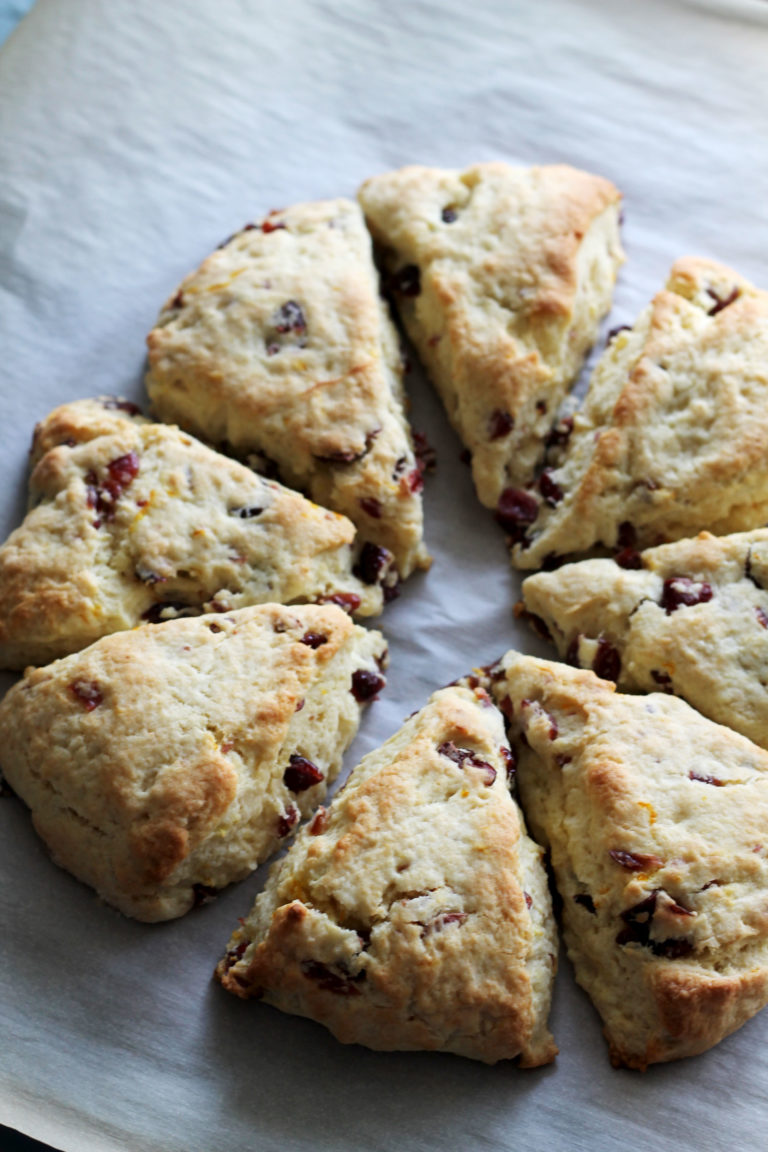 2 ½ cups flour
1/4 cup sugar
2 tsp baking powder
3/4 tsp salt
10 Tablespoons cold butter, diced into cubes (1 ¼ sticks of butter)
3/4 Cup heavy cream or whole milk
1 egg
I orange (for orange zest of peel)
1 Cup dried cranberries
1 tsp vanilla extract
Egg Wash:
1 egg
2 tbsp milk
INSTRUCTIONS
Preheat oven to 400F 
Line sheet pan with parchment paper.
Zest the peel of an orange. You will need 1 Tablespoon of zest.
In a bowl combine flour, sugar, salt, baking powder, and orange zest.
Add diced cold butter and work by hand until dough resembles small peas.
 In a small bowl whisk together the cream, the egg and vanilla extract.
Create a well in the center of the dry mixture and pour wet mixture in the well.
Add the cranberries into well. Gently mix with a fork until combined.
 Turn dough out onto a floured surface. Shape dough into a circle, cut into 8 triangles with a knife or pizza cutter. 
Place the cut scones on a baking sheet lined with parchment paper. Brush each scone lightly with the egg wash.
Keep scones in the refrigerator until ready to bake.
Bake in preheated oven for 20-25 mins until golden brown. 
Enjoy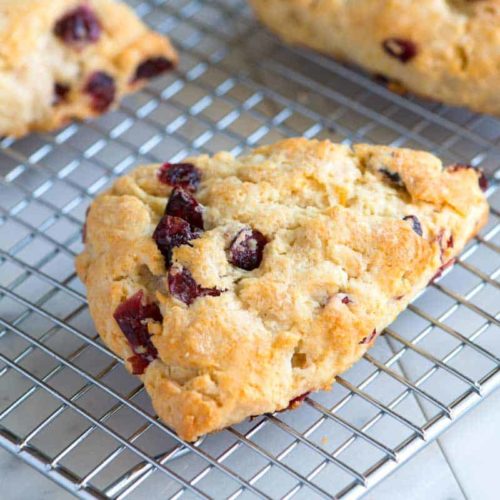 Cranberry Orange Scones
Equipment
baking sheet

zester or grater
Ingredients
2 1/2

Cups

all-purpose flour

1/4

Cup

sugar

2

tsp

baking powder

1/2

tsp

salt

10

tbsp

cold butter (1 1/4 sticks) - diced in pieces

3/4

Cup

heavy cream or whole milk

2

large

eggs

1

small

orange

1

Cup

dried cranberries
Instructions
Preheat oven to 400F 

Line sheet pan with parchment paper.

Zest the peel of an orange. You will need 1 Tablespoon of zest.

In a bowl combine flour, sugar, salt, baking powder, and orange zest.

Add diced cold butter and work by hand until dough resembles small peas. 

In a small bowl whisk together the cream, the egg and vanilla extract.

Create a well in the center of the dry mixture and pour wet mixture in the well.

Add the cranberries into well. Gently mix with a fork until combined. 

Turn dough out onto a floured surface. Shape dough into a circle, cut into 8 triangles with a knife or pizza cutter. 

Place the cut scones on a baking sheet lined with parchment paper.

Brush each scone lightly with the egg wash.

Keep scones in the refrigerator until ready to bake.

Bake in preheated oven for 20-25 mins until golden brown. 

Enjoy