There is nothing better than gathering neighbors and friends to share in decorating Christmas holiday cookies.
See the video of how fun it is.
For me it is a thrill as I am usually decorating myself for photo shoots and Youtube videos. So, having people join me in what I love is fantastic.
During the holidays I offered cookie decorating classes. I was surprised how many people wanted to join in the fun.
Everyone that came said they had not decorated before, but as you can see they became pros in just a few hours. Some even talked about starting a cookie business.
Watch video of 24 cookie decorating ideas
Get roll-out cookie recipes with our FREE eCookbook (click below)
Do you have our FREE Roll-out Cookie eCookbook?  Click below.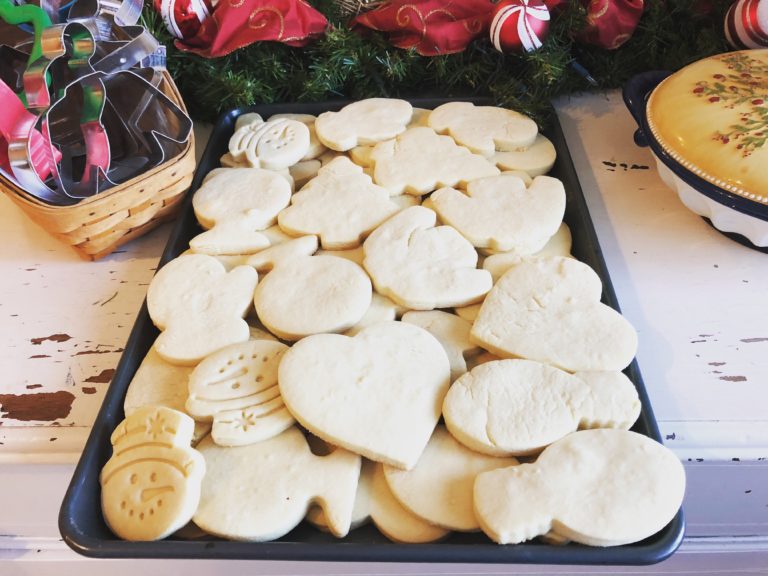 Baked roll-out cookies
Royal icing (see recipes in FREE eCookbook)
Food color gels
Piping bags
Knives or spatulas
Sprinkles
Paper plates or tins for take-home
Napkins or paper towels
Toothpicks
INSTRUCTIONS
Getting Ready for the Party:
Recipes for sugar cookies and icings in FREE eCookbook
Make cookie dough. Refrigerate. Roll-out & cut out with cookie cutters.
Make royal icing a few hours ahead of party – cover icing to prevent from drying
Mix colors needed for royal icing. Put in piping bag or freezer zip-loc bags. Cut a tiny hole for the opening. 
Set up decorating tables and chairs with tablecloth – use plastic so not to stain fabric tablecloths
Place sprinkles in small bowls and place on tables – I found lots of edible quins and sprinkles at my local craft store
Place paper towels or paper plates for cookies
Provide drinks (coffee, tea, hot cocoa, etc.) See photo of hot cocoa bar.
Provide take-home boxes or plates
Play holiday music.
Have giggle fun!!!