Celebrate football fans with an easy-to-make football cake. 
Yes, using tootsie rolls you can make footballs – no one will ever know until they bite into it.
Use a cake mix or recipe to make the cakes.
Use a tub of frosting or make your own buttercream (see recipe below).
Write your favorite team name on the footballs.
Have fun and we hope your team wins!!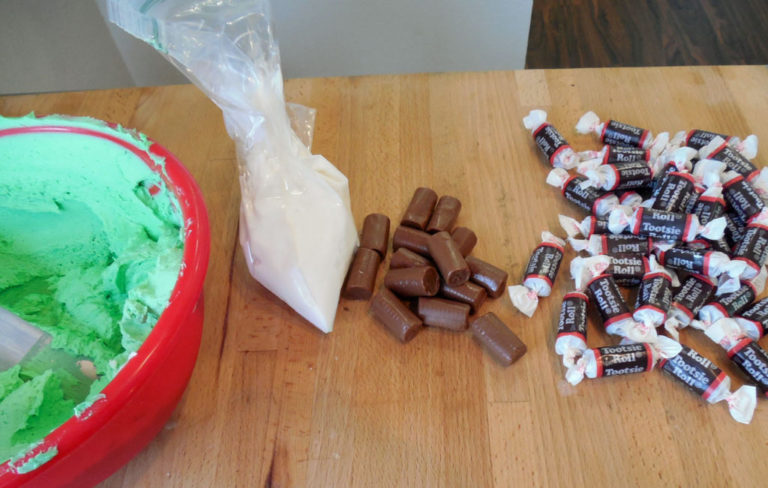 You Need:
Baked 2 8-inch round cakes
Tub of vanilla frosting or make Buttercream Frosting (recipe below)
Bag of Tootsie Rolls
Food color gel (I used mint green)
Fork
Piping bag or ziploc bag
How to Make:
Step 1: Bake and cool cakes.

Step 2: Make frosting. Save 1/2 cup of white before adding coloring. Add green food color gel to frosting to make a green turf color.

Step 3: Using a spatula, frost the cake.

Step 4: With a fork, fluff up the frosting on the top of the cake to look like grass.

Step 5: Unwrap tootsie rolls. In a microwave safe bowl, microwave for 10 seconds. Once soft, form all the pieces into two balls. 

Step 6: With a rolling pin, roll out the tootsie rolls to make a circle. With a knife, cut into a football shape. Lay on cake.

Step 7: Put leftover white frosting in a piping bag.  Make yard markers on the side of the cake, and decorate football.
How to make Buttercream:
Buttercream Frosting:
1 cup (2 sticks) butter (salted, or unsalted)
1 cup Crisco shortening or lard
1/4 teaspoon salt (if using unsalted butter)
4 – 6 cups powdered sugar
1 teaspoon pure almond extract (best quality available)
2-3 tablespoons heavy cream, half and half or milk.
Directions-
* In the bowl of an electric mixer, mix softened butter and shortening together.
* Add salt (if needed).
* One cup at time, add 2-3 cups of powdered sugar, beating after each addition.
* Add vanilla, or other flavorings and beat to combine.
* Add about 1 tablespoon of cream, and continue beating.
* Add the remaining 2-3 cups powdered sugar, one at a time.
* Add an additional 1-2 tablespoons cream until desired consistency is reached. If you want to pipe the frosting on cupcakes, the frosting should be nice and thick. Continue to beat another minute or so. The frosting should now be smooth and fluffy.