LOOK how cute this Easter bunny and candy eggs cake is. 
In the the video I show you how to create the basket decorating technique. So easy and fun.
Watch the videos to see how fun and easy they are to make.
You can find a variety of bunny treats as Peeps, Chocolate bunny, etc.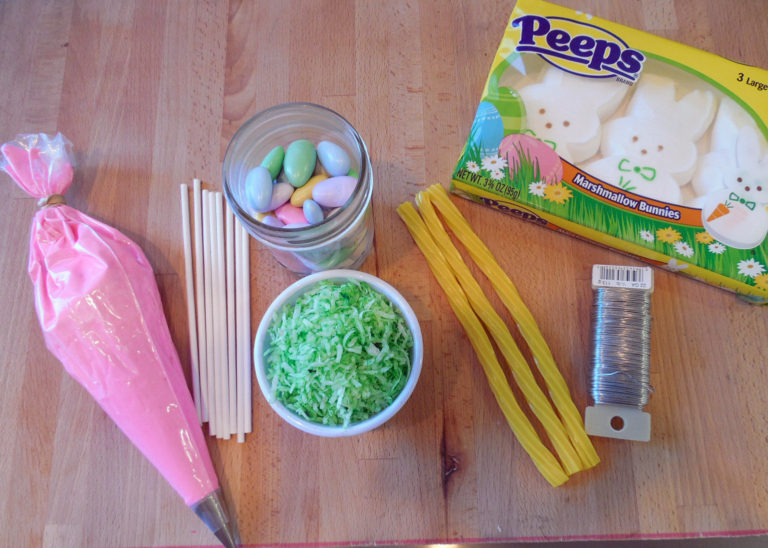 All you need:
Baked and cooled cake – Frosted with buttercream
Buttercream (see recipe below)
Bunny Peeps (I used the larger ones) or Chocolate bunny
Pink food color gel
Twizzlers licorice ( I used yellow)
Jelly beans or Pastel Almonds candy
Thin wire for making the basket handle
Cookie Sticks or bamboo sticks to hold in handle
Coconut
Mint green food color gel
Disposable decorating bag
#4 decorating tip
How to Make:
Watch video to see how easy the cake  is to create.
Frost a two-layer cake (see below a quick method)
Tint coconut with green food color gel in a bowl to make the grass.
Use 1 Cup of white frosting and mix a few drops of pink food coloring to make the pink color for the basket.
Fill a piping bag with frosting. Cut the tip very small or use a #4 piping tip (insert in bag before adding frosting)
Make basket handle (optional) by inserting a thin wire through the licorice. Use cookie sticks to hold the handle in place.
Quick Frosting Recipe:
2 Tubs white vanilla frosting
2 Cups Powdered sugar
2 Tablespoons milk
In a bowl, beat the vanilla frosting with the powdered sugar.  Add the milk if the frosting is too thick.