Have you seen beautiful lace cakes at weddings or bakeries?
Do you want to learn how easy and fun it is to make?
When I worked as a cake decorator in my younger years, I learned how easy and beautiful it is. 
The best part is no two designs are the same. 
A simple trick is buying a cake already baked and frosted at your local store.
Then surprise everyone with this beautiful decorating technique.
To fully learn how to make it, please watch the short or long version videos. 
Tip: It is best to use a chocolate bar or chocolate chips and NOT candy melts as they break easily.
You can decorate the cake using any kinds of candy and cookies. 
Do you have our FREE eCookbook? Kids Can Bake – No-fail perfect recipes. Click below.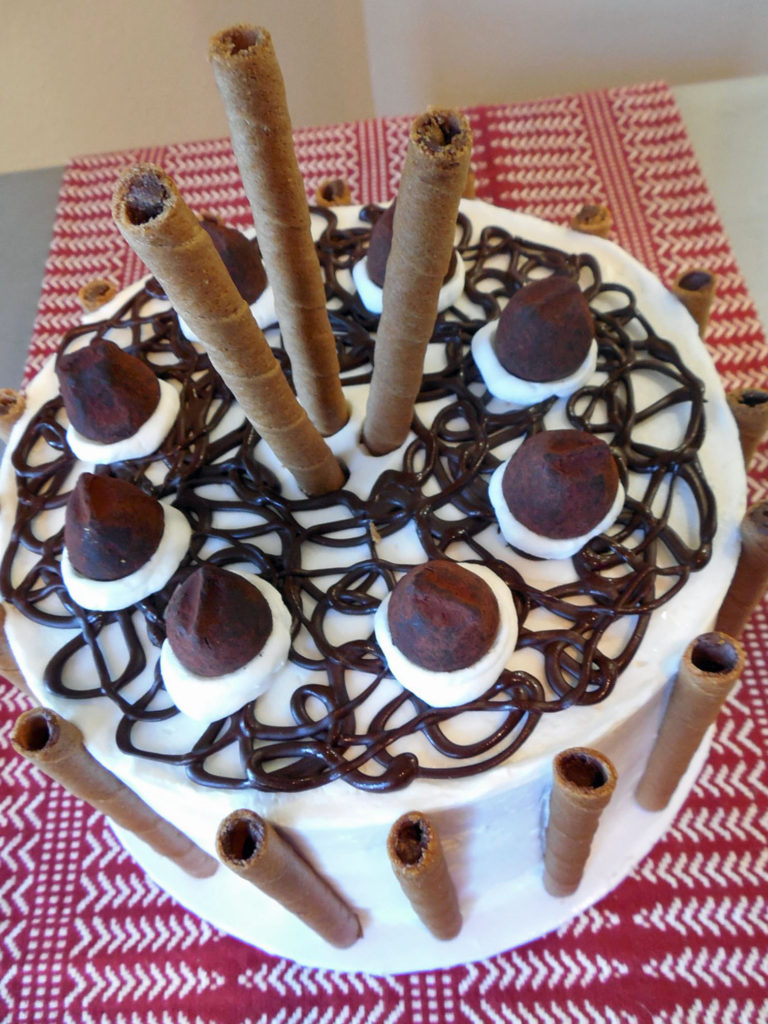 You will Need:
Baked and cooled cake – Frosted with buttercream (I made a devil's food cake -see cake recipes)
Buttercream
Chocolate bar (I used dark chocolate 70% cocoa)
(optional: use chocolate chips or candy melts)
Cookie cocoa batons cookies (I used Trader Joe's brand)
Parchment paper
Disposable decorating bag or freezer bags
Chocolate candy balls (I used chocolate truffles)
How to Make:
Melt the chocolate in a microwave safe bowl. Cook in 30 second intervals, stirring each time to avoid burn spots. It is best to keep stirring until chocolate is melted.
Lay parchment paper out. Use a cake pan to make a large circle. 
Put melted chocolate in a piping bag or freezer plastic bag. Cut a tiny hole.
Slowly pipe a lace design on the parchment paper. 
Put lace on the parchment paper in fridge until set. 
Carefully lay on top of your cake.
Decorate rest of cake with baton cookies, and chocolate candy.