Decorated Christmas wreaths and trees are the beauty of the season. You will bring smiles with these easy-to-decorate cupcakes.
Using candy and frosting found at your local grocery store, it makes fun with ease for the kids. 
You can use a leaf piping tip or create your own leaf tip using a ziploc bag and tape. (see how-to video) 
Bake your favorite cupcakes and use the decorating supplies to have a cupcake decorating time. Get creative to make different designs. 
Watch the how-to video to see how easy it is to make your own piping tips.
Do you have our FREE eCookbook? Kids Can Bake – No-fail perfect recipes. Click below.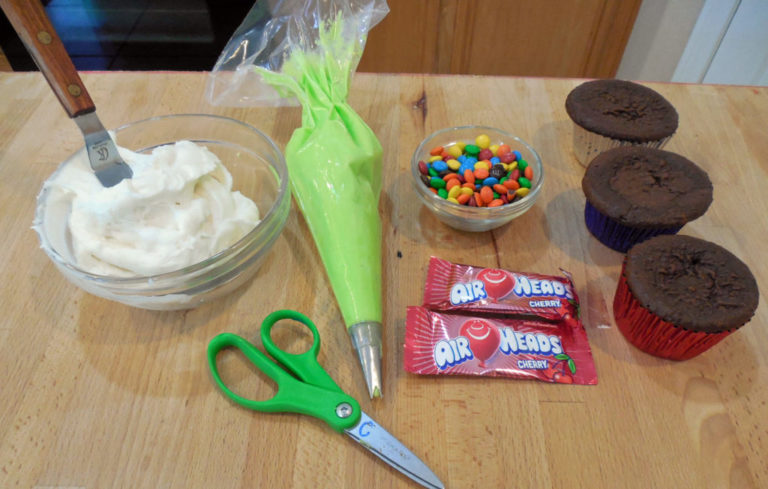 Baked cupcakes
1 or 2 Tubs of vanilla frosting
#352 tip or make your own
Green food coloring
Mini M & M's or Skittles
Red Air Heads candy
Scissors
Freezer bag and tape
How to Make:
Bake and cool cupcakes
Follow video how to make DIY decorating tip (or use tip #18 with a piping bag)
Divide the tub of frosting to make green frosting and one white.
In a microwave, melt the white frosting for 15 seconds. Stir till soupy. Dip the tops of the cupcakes in the frosting. 
Make green frosting with green food color gel. Fill the piping bag with green frosting.
Make wreath by making tiny X's. 
Make the trees by making swirls
Make wreath bow by using scissors to cut pieces of red air heads. (Watch video)
Use mini M & M's or sprinkles to add color