Create one-of-a-kind candy cane heart pops with your kids. 
Using mini candy canes, almond bark and some sprinkles (or crushed candy canes) and a cookie stick (optional), you create a sweet treat and gift.
These are easy to make but they look very difficult. I saw them in a store for $6 each. You can make for about 50 cents. 
Give as gifts. Cover with a clear bag and tie a ribbon.
Watch 2-minute video to see how easy they are to make.
And get FREE 15 Roll-out Cookie Recipes with first kit.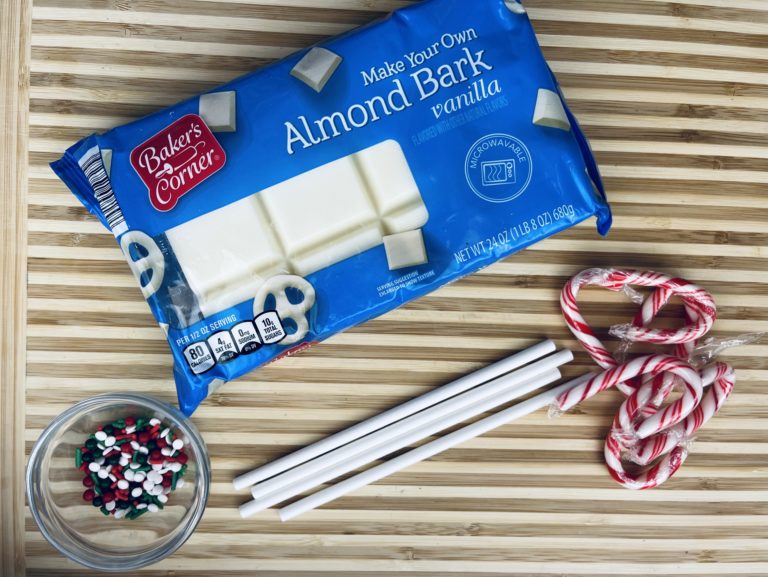 Mini Candy Canes
Almond bark or white candy melts (do not use white chocolate chips as they can burn in the microwave)
Holiday sprinkles or crushed candy canes
Cookie sticks (optional)
Ribbon 
INSTRUCTIONS
Preheat oven to 225 F 
Line sheet pan with parchment paper.
Lay cookie sticks (optional) on baking pan lined with parchment paper. Connect two mini candy canes.
Carefully put in oven and bake for 3-4 minutes.
The candy canes will be hot, so be careful in pressing the candy canes together to form a heart. Let cool.
Melt white almond bark (or candy melts)in the microwave for 1 – 1 minute 30 seconds. Stir until creamy.
Pour almond bark into a plastic bag or piping bag. Cut a small hole.
Pipe the almond bark into the middle of the hearts. 
Add sprinkles or crushed candy canes while almond bark is wet.
Let dry until bark gets hard again.
Wrap in clear baggie and tie with ribbon. Makes a beautiful gift.