Everyone loves chips but they really don't have lots of nutrition. Except for apple chips or even banana chips.
They can be expensive in the stores but with FALL apple prices, you can make a batch of apple chips for under $1.
The best part is they are easy to make. And the bonus is a house filled with the smells of apple pie (but you're not making the pie!)
Pick your favorite apples, buy them on sale and let's make apple chips.
Watch the video to see how easy to make.
There are a few variations, so choose your own.
You can just make the apple chips plain which give a true apple flavor.
You can add just cinnamon or pumpkin pie spice (or your favorite spice)
You can add cinnamon and sprinkle of sugar which gives a sweet taste.
You can squeeze lemon on apples before you bake if you don't like the browning color. 
Either way, you will love them. 
Parents & Grandparents – we know the best way kids learn. It's hands-on learning with memorable activities.
That's what Kids Baking Club is all about. Teaching kids the art of baking while learning math, science, literacy, teamwork, planning, and life-long life skills. 
Click "Join the Club" today! Surprise your kids for instant smiles and giggles. FREE apron too.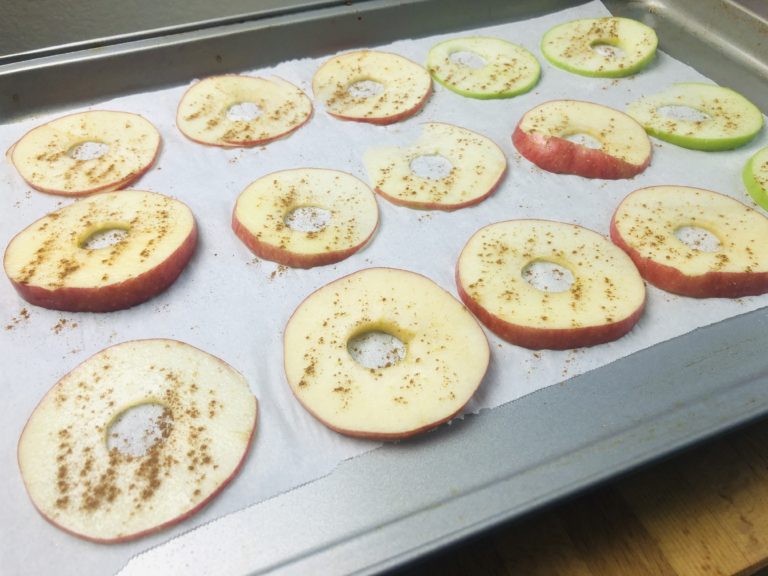 Apples
Cinnamon or Pumpkin Pie Spice
Sugar
Lemon (optional)
How to Make:
Preheat oven to 225°F.
Slice apples thin. Adults need to do this step.

Lay apples on a baking sheet with parchment paper.

Sprinkle apples lightly with sugar and cinnamon.

Bake apples or 1 hour, then turn the apples and bake for another hour. 
Enjoy!
Option: Before sprinkling sugar and cinnamon, squeeze lemon over apples so they don't brown in the baking process.