Nothing says "Good Morning!" than freshly baked muffins.
Our Carrot Apple Butter muffins are packed with ingredients but so worth the effort. 
This recipe teaches kids how many ingredients work together to make a healthy option for breakfast or snack.
Ingredients like: carrots, apples, flax seed, nuts, honey or pure maple syrup, milk, etc. 
You can make some substitutions with this recipe (use same measurements)
Flour: Use whole wheat flour instead of all-purpose flour. 
Nuts: Leave them out or replace with dried cranberries, raisins, or shredded coconut. 
Honey: add more Brown sugar or pure maple syrup.
Butter: use vegetable or canola oil or coconut oil
Apple Butter: use applesauce or mashed banana, or pumpkin puree.
Apples: You can replace with shredded zucchini.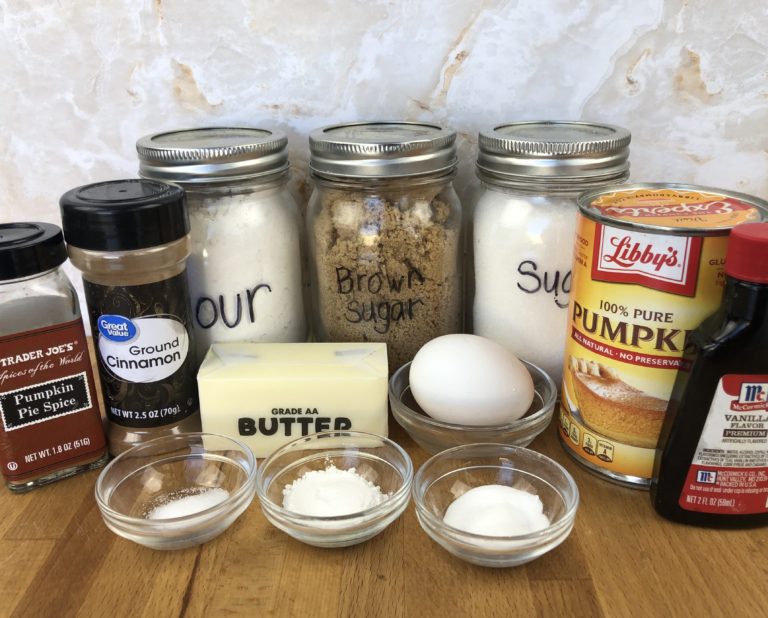 2

cups all-purpose or wheat flour

2

 

teaspoons

 

baking soda

1 teaspoons pumpkin pie spice 

1/2

teaspoon

 

salt

1/4 Cup ground flax seed (optional)

3 large eggs

1/2

 

cup

light brown sugar

1/4 cup honey or maple syrup
1 stick butter (1/2 Cup) melted
1/3 Cup apple butter 
1/3 Cup milk or orange juice
1 teaspoon pure vanilla extract
4 large carrots (shredded to make 2 Cups)
1 apple (grated)
1/2 Cup pecans or almonds (chopped or sliced) optional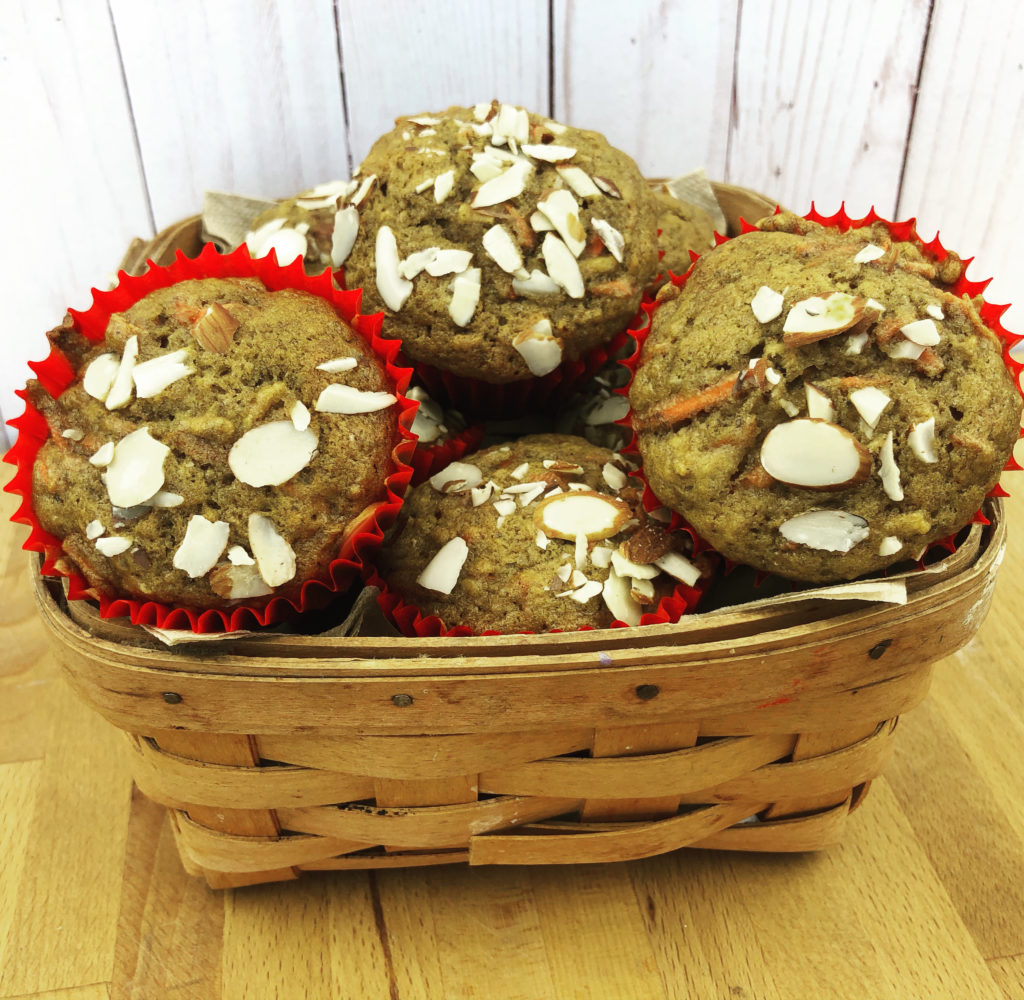 How to Make: See printable recipe below. Makes 14-16 muffins
Preheat oven to 425°F
Spray a muffin pan with nonstick spray or use cupcake liners. 
In a large bowl, whisk the flour, baking soda, spices, salt, and flax together.
In a medium bowl, whisk the eggs, brown sugar, honey, butter, apple butter, milk, and vanilla together until combined.
Stir in the shredded carrots and apples.
Pour the wet ingredients into the dry ingredients, stir a few times with a wooden spoon. 
Add in nuts. Don't over mix.
Spoon the batter into liners, filling them all almost to the top.
Bake for 5 minutes at 425 then, keeping the muffins in the oven, reduce the oven temperature to 350°F Bake for an additional 18 minutes.
Allow the muffins to cool for 10 minutes before taking out of pan. 
Enjoy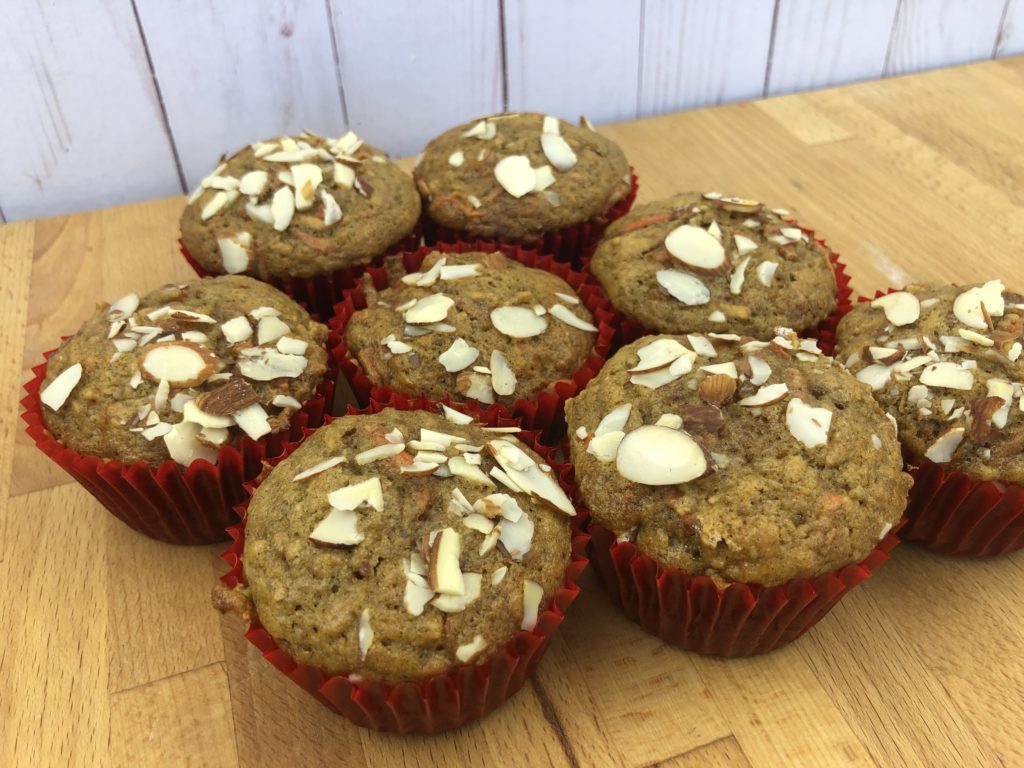 Carrot Apple Butter Muffins
Ingredients
2

Cups

all-purpose or wheat flour

2

tsp

baking soda

1

tsp

pumpkin pie spice

1/2

tsp

salt

1/4

Cup

ground flax seed (optional)

3

large

eggs

1/2

Cup

brown sugar

1/4

Cup

honey or pure maple syrup

1/2

Cup

butter (1 stick) melted

1/3

Cup

apple butter

1/3

Cup

milk or orange juice

1

tsp

pure vanilla extract

4

large

carrots - shredded

1

large

apples - grated

1/2

Cup

chopped pecans or sliced almonds (optional)
Instructions
Makes 14-16 muffins

Preheat oven to 425°F

Spray a muffin pan with nonstick spray or use cupcake liners. 

In a large bowl, whisk the flour, baking soda, spices, salt, and flax together.

In a medium bowl, whisk the eggs, brown sugar, honey, butter, apple butter, milk, and vanilla together until combined.

Stir in the shredded carrots and apples.

Pour the wet ingredients into the dry ingredients, stir a few times with a wooden spoon. 

Add in nuts. Don't over mix.

Spoon the batter into liners, filling them all almost to the top.

Bake for 5 minutes at 425 then, keeping the muffins in the oven, reduce the oven temperature to 350°F bake for an additional 18 minutes.

Allow the muffins to cool for 10 minutes before taking out of pan. 

Enjoy