How fun are these pie cupcakes to make for your holiday gatherings. 
Using M & M's and a delicious mascarpone frosting, the kids will make pumpkin, cherry, apple, and blueberry pie cupcakes.
Bake your favorite cupcakes, then have a blast decorating the pies. 
Mascarpone cheese is a soft Italian creamy cheese. You can substitute with cream cheese to make the recipe. Adding the spices gives the frosting a pie crust look. 
Watch Jill (Founder of Kids Baking Club) show how easy the cupcakes are to decorate.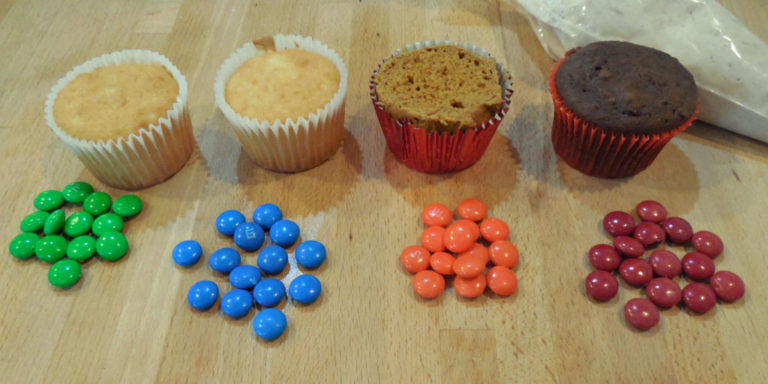 Baked cupcakes
M & M's
Marscpone Frosting:
Spiced Mascarpone Frosting:
1/2 Cup Mascarpone cheese (this is a creamy cheese found in the refrigerated cheese section) or cream cheese
6 Tablespoons butter (softened)
1/4 teaspoon cinnamon
1/4 teaspoon ginger
2 Cups Powdered Sugar
Mix cheese and butter together. Add spices. Slowly add the sugar until well blended.
How to Make:
Decorate cupcakes with:
Baked cupcakes
Frosting
M & M's
Piping bags or freezer ziploc bags (cut a tiny hole to pipe frosting)
Watch video to see how easy they are to decorate.
Tip: When placing the M & M's on top of the cupcakes, turn the M upside down so not to see it on the top.