The sunflower is a beautiful flower, which is the National flower of Ukraine.
You can create sunflower cupcakes using my DIY flower tip using a freezer bag and tape.
You can make for your spring and summer parties, baby shower, wedding, garden party and for Mother's Day.
Get all the details below after watching the YouTube how-to-make. Enjoy!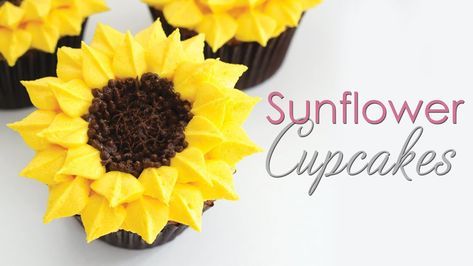 You will Need:
Cupcakes
Buttercream frosting (see below)
Yellow food color
Chocolate chips or mini Oreos (for the center)
Freezer bag
Scotch tape
Scissors
Buttercream BASIC Frosting:
1 cup (2 sticks) butter (salted, or unsalted)
1/4 teaspoon salt (if using unsalted butter)
4 cups powdered sugar (depending on stiffness)
1 teaspoon pure vanilla extract (best quality available)
1-2 tablespoons heavy cream, half and half or milk.
Directions-
* In the bowl of an electric mixer, mix softened butter. Whip until pale yellow.
* Add salt (if needed).
* One cup at time, add 2-3 cups of powdered sugar, beating after each addition.
* Add vanilla, or other flavorings and beat to combine.
* Add about 1 tablespoon of cream, and continue beating.
* Add the remaining 1 cup powdered sugar.
* If you want to pipe the frosting on cupcakes, the frosting should be nice and thick. Continue to beat another minute or so. The frosting should now be smooth and fluffy.